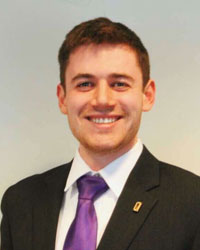 Nicholas Dondiego was hired as a Chapter Services Consultant for Tau Epsilon Phi on August 15th, 2019 and promoted to the position of Associate Director of Chapter Services on January 1, 2021.
Nicholas joined Tau Epsilon Phi in the Spring of 2015 when he was initiated into the Alpha Tau Chapter at Rowan University in Glassboro, NJ. Nicholas graduated in May 2019 with a Bachelor of Science degree in Business Marketing, with a Minor in Entrepreneurship and a Certificate of Undergraduate Study in TV & Films.
Nicholas served the Alpha Tau Chapter as IFC Chair (Fall 2015), Rush Chair (Spring 2016), Social Chair (Fall 2016-Spring 2017), Homecoming Chair (Fall 2016), Greek Week Chair (Spring 2017), House Chair (Fall 2016-Spring 2017), Beta Warden for Mu Class (Spring 2019), and Chancellor (Fall 2017-Spring 2018).
During the summer of 2017 Nicholas attended the Tau Epsilon Phi leadership retreat in Baltimore Maryland. There he connected with National leadership and numerous other chapter leaders and representatives of the fraternity fueling his interest in the national organization and student affairs.
Nicholas is working towards a career in student affairs and marketing having a passion for the digital media world and how Greek Life paired with other student organizations help educate students all across the country. He hopes to one day work for a college in their student affairs office while working on personal business ventures in marketing for digital media projects. Nicholas has had internships with a media company, not-for-profit and green energy company before his induction into the position of Chapter Services Consultant.
Nicholas lives in Hillsborough, New Jersey central to numerous chapters and brothers including his own Alpha Tau. He continues to support his local chapter as an alumnus always making sure to stop by his chapter house. During his free time Nicholas loves watching film and creating skits, compete in Esports, watch the Baltimore Ravens and has recently gotten into Hockey as a Flyers fan.
He is eager to push his position forward following his predecessor Josh Delgado who laid the foundation for the role. Nicholas is honored to serve for the love of service to the organization that has given him so many life time brothers and amazing experiences.