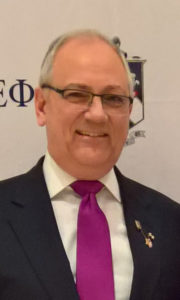 Charles G. Wolf was reelected as a Director on the Grand Council on October 8, 2022, at the 2022 Grand Chapter session held in Baltimore, Maryland.
Charles joined Tau Epsilon Phi Fraternity in Spring 1974 when he was initiated into the Epsilon Nu Chapter at Rochester Institute of Technology (RIT) in Rochester, NY. Charles graduated from RIT in May 1978 with a Bachelors of Science Degree in Photographic Marketing Management.
Following graduation, Charles went to work for Eastman Kodak as a Technical Sales Representative in Kodak's Professional Photography Division.  After nine months of accelerated training at Kodak's Marketing Education Center in Rochester, NY, Charles was assigned a New York City territory in Manhattan's "Photo District."
In the early-1990s, Charles went to work for Tiger Information Systems in New York City as an information systems technical support specialist in New York City law firms. During this time, Charles' new British bride, Katherine, joined him in building a "second-gig," part-time sales and marketing business with Amway Corporation.
In early 2001, after a killing one block from his home, Charles was asked to chair a Greenwich Village business and resident neighborhood association.  He orchestrated the neighborhood's approval to bring in the Guardian Angles to patrol the streets to drive out the drug dealers responsible for the killing, and otherwise intimidating the neighborhood. After 9/11, this action spurred newly-elected Mayor Michael Bloomberg to initiate a city-wide quality-of-life program.
On August 27, 2001, Katherine, who also worked full-time, took a new job with Marsh & McLennan on the 97thFloor of One World Trade Center.  Katherine was killed in the terrorist attacks of September 11, 2001.
Following the 9/11 attacks, Charles became a major 9/11 activist, successfully achieving changes to several key post-9/11 issues and developments, such as: (1) convincing the Special Master to change the way he ran the September 11thVictim Compensation Fund, resulting in its congressionally-acclaimed success; (2) convincing New York Governor Pataki to cancel plans to build a political museum within feet of the National September 11 Memorial; (3) in 2006, successfully lobbying Mayor Bloomberg to resume the search for 9/11 remains; (4) during the ten years of its development and construction, advocating for the National September 11 Memorial and Museum; (5) in 2016, with others, successfully lobbying the United States Senate to override a presidential veto so the 9/11 families could sue a foreign country for funding the 9/11 attacks; and, (6) in 2018, again, with others, lobbing the Senate to pass, by a 100-0 vote, a resolution encouraging the declassification of 9/11-related documents.
Charles initially was elected to the Grand Council in 2011 as the Second Vice Consul, was elected again in 2013 as a Member-at-Large, and again in 2016 and 2018 as Second Vice Consul as most recently in 2020 as a Director. Charles is a Parliamentarian, which he puts to use for ΤΕΦ.
Charles was a professional photographer at the age of 18 and still enjoys photography.  He earned his private pilot's license in 1975, loves sailing, studies wine, and loves good food.  Charles lives in Greenwich Village, New York City.