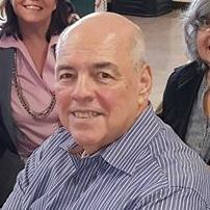 Al Versacci has been a TEP Brother for over 59 years, initiated in 1962 by the Epsilon Mu Chapter, Hunter College, City University of New York. He served two terms as chapter Chancellor and was awarded by his chapter brothers the Meritorious Service Award for his faithful service. The University of Southern California and TEP National offered Al a scholarship to be the newly created Graduate Resident Advisor to the reactivated Tau Gamma Chapter. With Al's encouragement the chapter brothers worked very hard and were successful with a strong comeback on the USC campus. After completing his Masters of Public Administration degree at USC, he was hired to the national fraternity staff, from 1967 to 1969 as the Assistant Executive Secretary. He worked with long term Executive Secretary, Sid Suntag, affectionately called the "The Bald Eagle." Al continued to serve on the Grand Council for over twenty-two years becoming the youngest brother to be elected Consul in 1981. He served as Consul from 1981-1983 and then as a three (3) term president of The TEP Foundation, Inc. from 1983-1989. During his tenure, among his many accomplishments, he is most proud of, with the help of many alumni, the publishing of "The History of Tau Epsilon Phi, 75 Years of Friendship, 1910 – 1985." by Sidney S. Suntag. He knew the only person who could author such a history would be Sid Suntag and there was an urgency to get it written. It took Sid five (5) years to complete the writing of the 420 page volume book.
Al has been honored by the National Fraternity and the TEP Foundation. In 1965, Al was the first recipient of the "The TEP Undergraduate of the Year Award." This was presented to him at Convention that year, held in Atlanta, GA. In 1985, at TEP National's 75th Diamond Anniversary Convention at Arizona, Al received the distinguished "Michael C.C. Lilienfeld Outstanding Alumnus Award" for exceptional long term service to the fraternity.
In honor of his many years of devotion and service to TEP, and to his community, in 1991 at the Miami Beach, FL TEP convention, they presented him with the "Alfred C. Versacci Bridge Builder Award" for his fraternity and community achievement. Recently, in 2017, the TEP Foundation honored Al by establishing and funding a $500 award known as the "Al Versacci Leadership Award" presented to an undergraduate brother. Al is grateful for his TEP honors but feels out of all the TEP awards and titles he cherishes most of all is the title of "A TEP Brother." Today, Al serves as a Trustee on the board of the TEP Foundation, Inc.
In 2007, Al retired after a career of many years as a vice president and in other senior management positions in general management, mergers & acquisitions, organization and human resources development, labor relations and benefits for Amerada Hess Corporation, Xerox Engineering Systems, with a XES European project assignment for six European countries from a base in London, England, Castle Oil Corporation, New England Electric Systems and Yonkers Raceway.
Al currently lives in the Bronx, NY and has a family of three daughters, Jennifer, Marguerite and Sarah (with a special addition to the family Shanna, Sid Suntag's granddaughter) and two sons-in-law David Lewitt and Chris Keppler along with five grandchildren, Ethan, Louis, Isabela, Sophie and Charley. He survived his late beloved wife Lois (Levine) Versacci, Esq. after 27 years of marriage. Al also survived the late Sandra Katz, Esq. his beloved partner of twenty years.