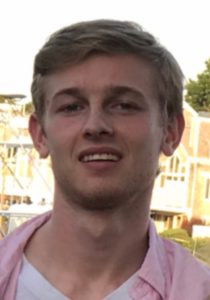 Matt Johnson was elected to the position of Director on October 5, 2018 at the Grand Chapter sessions and Convention in Chicago, Illinois.
Matt joined Tau Epsilon Phi in the Fall of 2013 when he was initiated into the Epsilon Iota Chapter at Rensselaer Polytechnic Institute in Troy, NY. Matt would graduate from RPI in December, 2017 with a Bachelor of Science degree in Business & Management with concentrations in Entrepreneurship and Marketing.
Matt served the Epsilon Iota Chapter as Historian (2014), Vice Chancellor (2016), and Chancellor (2017). In addition to his time on the Executive Board, Matt served three times as both Rush and Social chairs, assisting in the redevelopment of the chapter's approach to recruitment. He is currently serving as the Epsilon Iota Alumni Association Social Chair.
Matt attended the Grand Chapter & Convention as an EI chapter representative in Orlando, Florida (2016). This is Matt's first term serving on Grand Council. He is eager to learn from the experienced alumni serving above him and assist the fraternity further on the national level. In addition to his eagerness to learn, Matt hopes to put forth to further expansion and alumni outreach in the New England area.
Matt is working toward completing his electrical journeyman's license. In addition to certification, he has been expanding the business structure and project approach for Johnson Electric Incorporated. Matt also seasonally volunteers as a marketing intern for both for-profit and non-profit promotions in the Boston area.
Matt is honored to have been elected to the Grand Council to serve until the fraternity's 110th year. He hopes to use his various interests and acquired skills as both a recent undergraduate and fresh alumnus to build the bridge further for young men to follow.