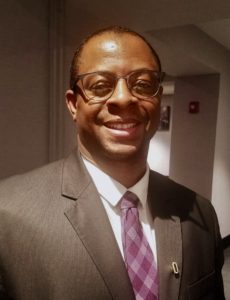 Christopher Melbourne was elected to the Grand Council of Tau Epsilon Phi at the Grand Chapter session and Convention as the Vice Consul for Undergraduate Affairs on October 5, 2018.
Christopher joined the illustrious fraternity known as Tau Epsilon Phi in the spring of 2012 through our Epsilon Theta chapter at the City University of New York at Queens College. He became the Chancellor of the Epsilon Theta chapter in his last academic year of 2015-2016. As an undergraduate, Christopher won 2 awards from Tau Epsilon Phi. The first award was from the Epsilon Theta chapter Alumni Association for being the Undergraduate Brother of the Year in 2015. The second award was the Stanley Schechter Scholarship award which was awarded by the TEP Foundation in 2016. This scholarship was awarded to Christopher at the Grand Chapter session and Convention of 2016. Under his leadership, the Epsilon Theta chapter had grown in membership and produced its highest graduation class in the history of the chapter in the spring 2016. His main focus for the chapter was to maintain academic integrity while keeping true to the ideals of our fraternity.  Christopher graduated from Queens College with a Bachelor of Arts degree in Biology following a pre-medical tract in the summer of 2016.
Currently Christopher Melbourne is working as a Dispatcher and Supervisor for an environmental company in Brooklyn, NY with aspirations of enrolling into a law school of his choosing. He is also currently the Epsilon Theta Alumni Association Vice Chancellor and the former advisor to the Epsilon Theta undergraduate chapter.
In his spare time, Christopher likes to volunteer and teach taekwondo and self-defense at a local school in Hicksville, NY as well as participate in fundraising events for charitable organizations such as the American Cancer Society.