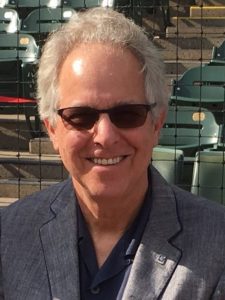 Gary Lawson was elected Tribune of Tau Epsilon Phi Fraternity, Inc. on October 5th, 2018 (his birthday by the way) at the Grand Chapter session and Convention in Chicago, Illinois.
Gary joined Tau Epsilon Phi Fraternity in 1963 when he was initiated into the Epsilon Theta Chapter at Queens College, CUNY, in New York City, N.Y. Gary graduated from Queens College in the summer of 1966 with an Associate of Arts Degree.  He obtained his J.D. degree from St. John's University School of Law in 1970 and his LL.M. in Taxation from New York University School of Law in 1974. Between college and law school while attending graduate studies he spent a semester as the graduate advisor to the TEP Chapter at Ohio State University.
After wandering about the U.S. for a number of years, practicing law in Milwaukee, Chicago, Atlanta and Boston, having eventually marrying his law school sweetheart, who he'd met at the TEP lunch table at Queens College years before, Gary and his wife Marcia settled down in Dallas Texas. Today, Gary is a corporate, transactional and executive compensation lawyer practicing in Texas, recently buying both a farm north of Dallas and a Prevost Motor-coach to tour America.  The later was an outgrowth of an 8 national parks bus tour with 3 of his college TEP brothers and their wives and 30 strangers who got to experience the meaning of brotherhood traveling with this band of 4 brothers and 4 sweethearts. When he gets another 10-15 hours flight time completed Gary is looking forward to having his private pilots license.  His son, an otherwise sensible computer programmer, has just announced his interest in taking up parasailing or flying a powered parachute.
Gary has been a founder of and or served on the boards of several nonprofits including:
Medisend International – Providing medical equipment to third world/developing nations around the globe.
FIRST in Texas – an affiliate of FIRST USA (Dean Kamen, Founder). Promoting student interest in math, science and technology with Robotic Challenges
Independence Corps – providing high-tech mobility devices to wounded disabled, mostly post 9/11 veterans and providing networking events for injured veterans, Current -Chairman
Snowball Express – serving the interests of children who lost a parent serving in the U.S. Military after 9/11, Board Member, Vice Chairman and Chairman
Boys & Girls Club of Collin County
In 2014 in recognition of more than a decade of service to our military and their families, Gary was inducted by order of the Secretary of the Army into the 160th Special Operations Aviation Regiment, the famed "Nightstalkers".
Gary has authored several dozens legal articles and also served for 10 years on the board of Bankers Trust of the Southwest, an affiliate of Bankers Trust Company New York until its acquisition by DeutschBank.